In my three decades of role-playing, until recently, I had never experienced or dealt a TPK on a party of adventurers. Sure, we've come close numerous times, but although characters would die, there were always survivors.
Now I have had two campaigns end with the death of the entire party, and both times were at the hands of those evil creatures, the dreaded Ghoul! First one was in Session 21 of my Eternal Empire campaign, and the second was last night…
---
Carrying on from the last session, the party were still trapped inside the second level of the dungeon. They continued to explore and immediately came across a secret door that they had missed. On the other side was a small room, a door, and a locked chest full of  loot. Beyond the door was the sound of what I described as "like the sound made when you tear meat from a chicken, albeit a raw one". Expecting trouble, they got ready and opened the door: revealing several ghouls (in tattered morning suits), who were peeling the rotten flesh from zombies to make them into skeletons, of which there were several of both. Seeing how outnumbered they were, the party opted to retreat after letting loose a few arrows and darts, felling a skeleton and a zombie in the process; a ghoul tried to bite Viridian, but he parried it with his sword and shattered its teeth [natural 20, using my house-rule that the attacker decides what happens]; but then he got hit by own ally, as the barbarian Davidoss fumbled his attack [house-rule, natural 1, defender decides what happens, and I chose to be evil; although I allowed the attack to be re-rolled, and it scored a perfect hit instead] and cut deep into the fighter, sending him into sweet unconsciousness. They slammed the door shut, wedged the chest in front of it, and ran away, dragging Viridian with them.
They made their way to a room where they felt safe, having fully explored it. Viridian awoke, injured but still able. Lucius stood watch, keeping an eye out in case the undead pursued them. Meanwhile, Amoros had a bright idea of using ropes to make nooses, and Viridian helped him set them up. Lucius spotted the approaching dead, several of each, who had tracked them to the room (after checking out various rooms on the way, giving the party time to make ready). Arrows were loosed as the dead approached, with Left Hand Lenny landing the final shot they slew a ghoul.
Then they fought: two zombies got pulled down by the nooses, skeletons were smashed by Lucius' superior strength, arrows took out another ghoul, and the rest quickly followed. It was a tense but satisfying battle, and luck was most definitely on their side.
Bolstered by their success, they headed back to the room from whence the undead came, assuming that they were all defeated. Throwing caution to the wind, Lucius and Davidoss move into the room… straight into the middle of three ghouls, who stayed behind and surprised them. Swiftly, claws and bites fell, and their luck turns bad; both Lucius and Davidoss are paralysed. Acting swiftly, Viridian and Amoros grab their comrades and drag them into the secret room, as Left Hand Lenny slams the door shut and tried to hold it long enough for the others to get to safety.
Alas, Left Hand Lenny is the weakest of the party, and the door is forced open by the ghouls; the thief stands in their way, sacrificing himself, as the still standing adventurers dump their comrades in the closet opposite the secret door. Left Hand Lenny is bitten, paralysed, and shoved aside as the ghouls go after the others. Amoros falls next, not even having time to lob another dart; he too is paralysed.
Viridian, alone and already badly wounded, fires a couple of arrows, but both miss. The ghouls charge him, further wounding him, and then he too is paralysed. Then ghouls then eat them, one at a time, in sight of their comrades, and thus the adventure ends.
---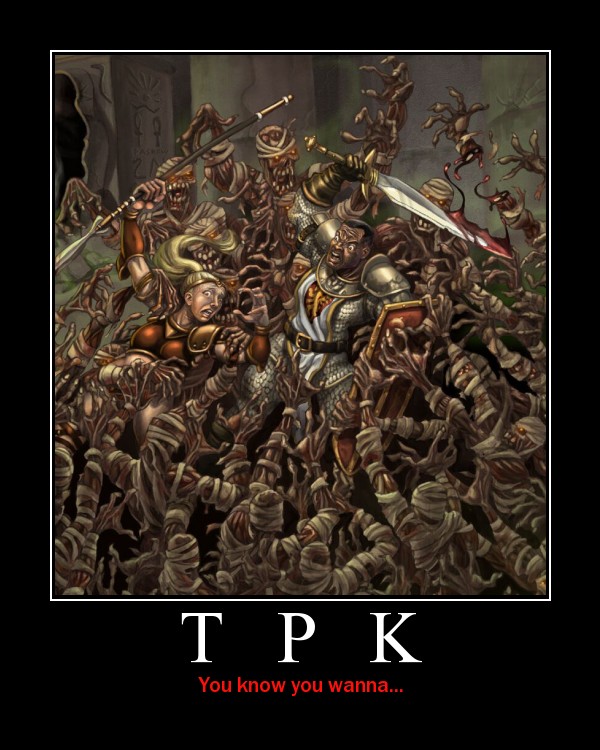 My second TPK with this group, and yet again it was the ghouls that did them in.
 So, we are now moving onto using the Adventurer Conqueror King System with the old 25th Anniversary version of Against the Giants, with their new characters part of a newly formed resistance force based in the occupied and partially ruined settlement of Tika Town. Which means I have a week to get map tools sorted, make some maps, send out info, get Obsidian Portal ready, and design a few sessions worth of adventure. Oh, and this time, no ghouls until they're much higher level.
We rolled stat's for their primary characters (each will also have a back-up, and they can swap between them), and everyone had decent scores for a change. Looking forward to having this campaign last a bit longer :)