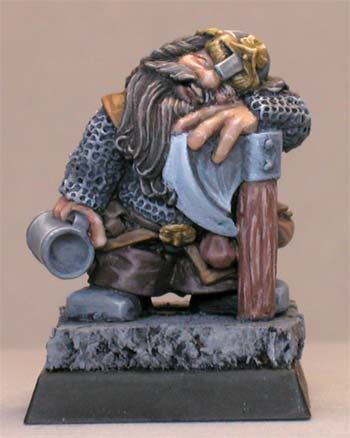 So, in last Monday's game, poor Ungird lost the use of his legs; but after a lengthy (but uneventful) journey to the nearest free city, they paid to have his legs restored: unfortunately, he now has a bottomless hunger for alcohol.
Which means I now need some House Rules to cover the effects of his consumption; the rules for him not quaffing pints is simple, basically -1 to all saving throws per hour until he starts drinking again. But in ACKS there's no ruling for the effects of alcohol, so I'm going to make one up (loosely based on stuff I'm read in the AD&D DMG).
Alcohol Effects
Characters can safely drink a number of units* of alcohol in a three-hour period, based on [3+Constitution modifier]. For every unit beyond this, make a Saving Throw versus Poison or suffer some effects; each new drink requires a new save, each failure escalates the severity of the alcohol effects, as below.
The severity drops by one level for every 3 hours that pass without drinking, or to zero after a full night's uninterrupted sleep. After such a sleep, or when the severity drops, another saving throw must be made to avoid a hang-over (-2 to all throws for 2d6 hours).
| Severity | Saves vs Fear | Int/Wis penalty | Temp. HPs | Attack penalty |
| --- | --- | --- | --- | --- |
| Zero | Normal | 0 | 0 | 0 |
| Light | +1 | -1 | 0 | 0 |
| Moderate | +2 | -3 | +1d4 | -1 |
| Heavy | +3 | -5 | +2d4 | -3 |
| Severe | +5 | -7 | +2d4 | -5 |
| Unconscious | N/A | N/A | N/A | N/A |
*1 unit = pint of ale, glass of wine, half-glass of spirits; 2 units = 1 pint of dwarf stout, 1 glass of elven spirits; 3 units = orc brew, goblin spirits.
Edit (16/06/12): in the comments below I said I'd reset the save penalty after sleep, but after further thought I'm thinking that's too easy. So, when Ungrid wakes up after his night's sleep his consuming hunger retains the penalty of -1 per hour; he can alleviate this by drinking a unit per penalty; so for 8 hours sleep, he'll need to quaff 8 units to be restored, and quite likely be drunk too. Which falls in with the consuming hunger and addiction.
I'll have to see how it works on Monday, and adjust as necessary.