Another monster from the Weeping Chasm and The City of Bones.
BLOOD RAVEN
% in lair:
20%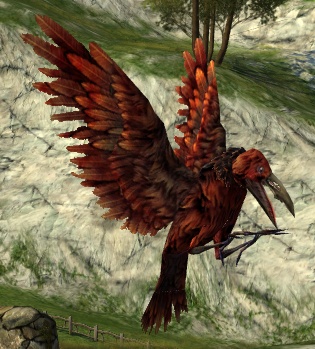 Dungeon Encounter:
1d6 unkindness / 2d6 nests (2 birds per nest)
Wilderness Encounter:
2d6 unkindness / 5d6 nests (2 birds per nest)
Alignment:
Chaotic
Movement:
30′ (10′) or fly 180′ (60′)
Armour Class:
 3
Hit Dice:
1
Attacks:
2 (beak, claws)
Damage: 1d8/1d6
Save:
 F1
Morale:
+2
Treasure Type:
 incidental (A)
XP:
 5
Giant ravens, red of feather and yellow of eye, black of beak and claws, these bloated vermin have grown into abominations after feeding on the blood that weeps from the torn edges of the chasm. They are aggressive, with an insatiable hunger for blood and fresh, raw flesh. Mostly found in the BLOODY MIRE, the ravens hunt widely, all over the chasm, and make nests in crevices of the walls and on the rare solid ground of the marshes. Such nests are made of bones, dried bloody mud, as well as the usual twigs and debris. Nests have 1d6 eggs of a black-speckled red, and during the spring an equal number of young ravens replace them; these young have 1d4 hit points, attacking with their beaks for 1d3 damage. They grow to full size by the end of summer, and seek out their own mates and nests before winter.
The eggs of the BLOOD RAVEN are poisonous if eaten (save versus poison or die in a day) but are prized by collectors and alchemists, fetching 50 to 100 gp per egg. Alchemists can use them to brew poisons and as a base for potions. The feathers of the ravens can also be sold to those who have an interest in fashion, fetching 25 gp for a full, undamaged carcass.